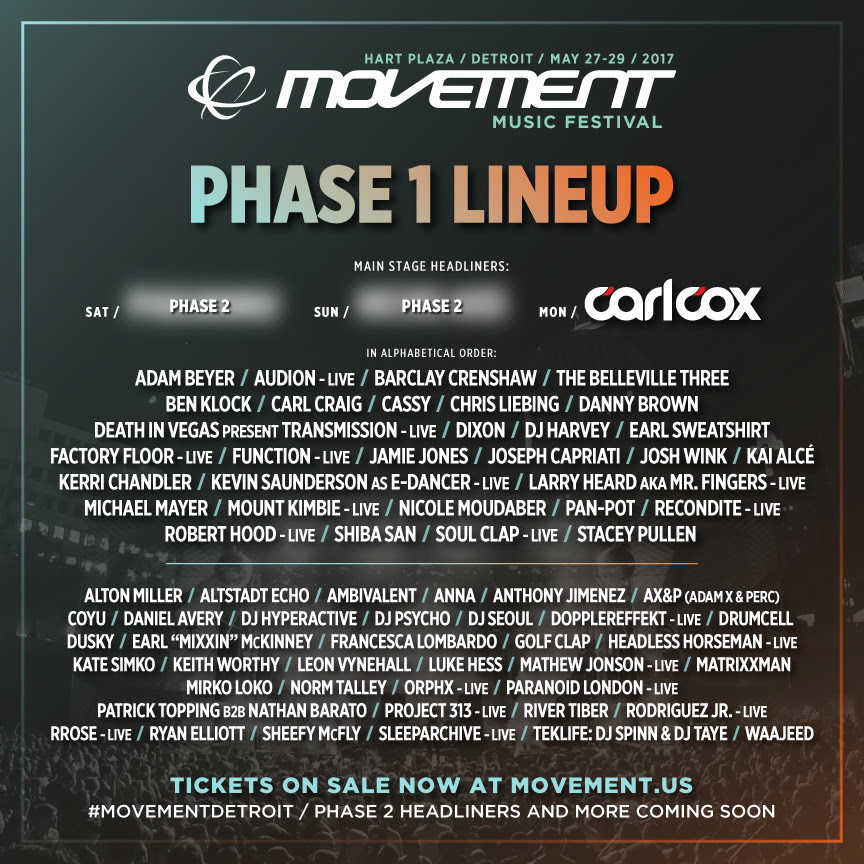 (2017-2-16)
Seth Troxler, Matthew Dear, Green Velvet
and more announced for
Movement Detroit
2017 Pre-Parties!
(2017-2-3) Following
Movement Detroit
's initial lineup announcement, which included Monday's Main Stage headliner
Carl Cox
as well as
The Belleville Three
,
Adam Beyer, Barclay Crenshaw, Danny Brown, Dixon
and many more, the festival organizers are excited to reveal over 40 additional acts to its 2017 lineup, bringing this year's billing to 113 performances.
(2016-12-16)
Movement Detroit
are pleased to announce the Phase 1 lineup for 2017, led by dance music legend
Carl Cox
as headliner for the Main Stage on Monday. Detroit's annual three-day revelry returns to Hart Plaza on Memorial Day weekend, May 27-29, 2017.
(2016-11-23)
Movement Detroit
2017 Early Bird Tickets go on sale November 28!
Lineup:
ADAM BEYER
ALTON MILLER
ALTSTADT ECHO
AMBIVALENT
ANNA
ANTHONY JIMENEZ
AUDION - LIVE
AX&P (ADAM X & PERC)
BARCLAY CRENSHAW
THE BELLEVILLE THREE
BEN KLOCK
CARL COX
CARL CRAIG
CASSY
COYU
DANIEL AVERY
DANNY BROWN
DEATH IN VEGAS PRESENT TRANSMISSION - LIVE
DIXON
DJ HARVEY
DJ HYPERACTIVE
DJ PSYCHO
DJ SEOUL
DOPPLEREFFEKT - LIVE
DRUMCELL
DUSKY
EARL "MIXXIN" MCKINNEY
EARL SWEATSHIRT
FACTORY FLOOR - LIVE
FRANCESCA LOMBARDO
FUNCTION - LIVE
GOLF CLAP
HEADLESS HORSEMAN - LIVE
JAMIE JONES
JOSEPH CAPRIATI
JOSH WINK
KAI ALCÉ
KATE SIMKO
KEITH WORTHY
KERRI CHANDLER
KEVIN SAUNDERSON AS
E-DANCER - LIVE
LARRY HEARD
AKA MR. FINGERS - LIVE
LEON VYNEHALL
LUKE HESS
MATHEW JONSON - LIVE
MATRIXXMAN
MICHAEL MAYER
MIRKO LOKO
MOUNT KIMBIE - LIVE
NICOLE MOUDABER
NORM TALLEY
ORPHX - LIVE
PAN-POT
PARANOID LONDON - LIVE
PATRICK TOPPING B2B NATHAN BARATO
PROJECT 313 - LIVE
RECONDITE - LIVE
RIVER TIBER
ROBERT HOOD - LIVE
RODRIGUEZ JR. - LIVE
RROSE - LIVE
RYAN ELLIOTT
SHEEFY MCFLY
SHIBA SAN
SLEEPARCHIVE - LIVE
SOUL CLAP - LIVE
STACEY PULLEN
TEKLIFE: DJ SPINN & DJ TAYE
WAAJEED
Tickets on sale:
movement.us/tickets