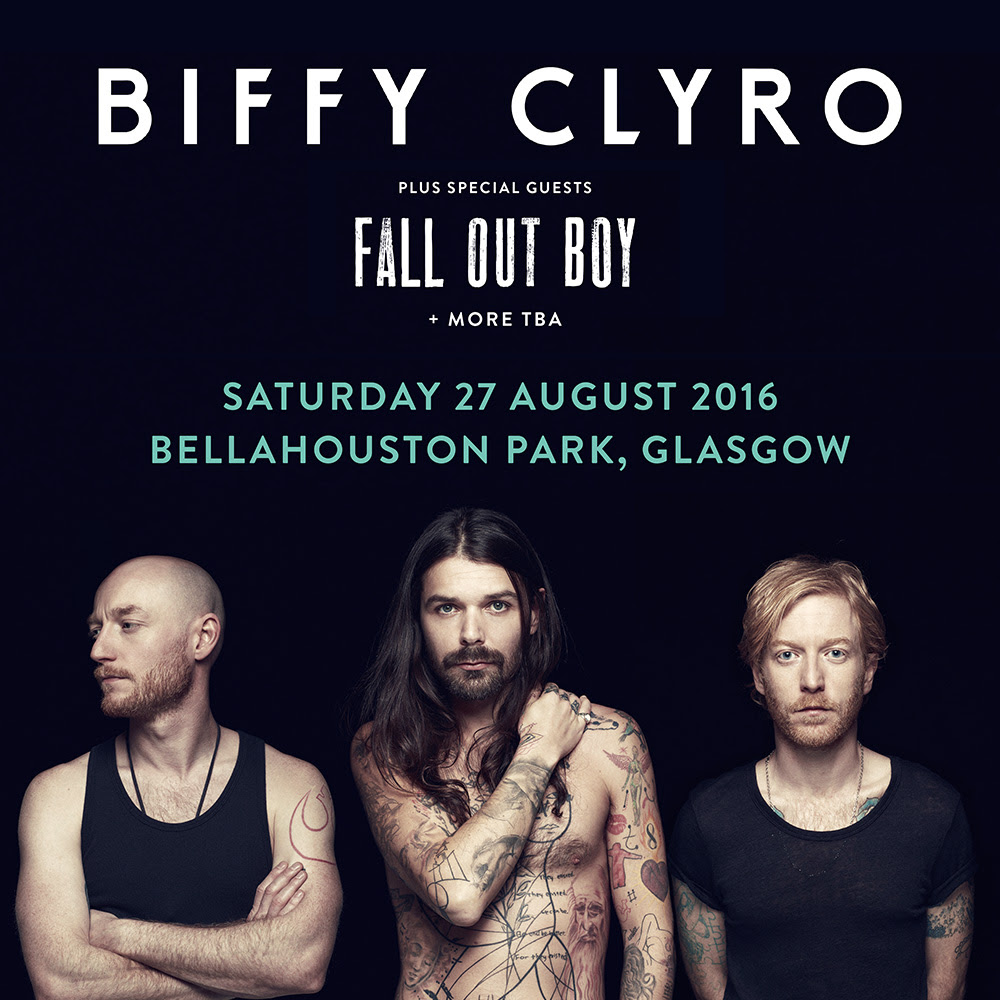 (2016-7-2) A handful of new shows have recently been announced including a headline set at
Spellground Festival
in Romania and two new shows in Norway, which have been added to autumn's European tour.
(2016-3-18)
Biffy Clyro
will return to Scotland this summer to play their largest ever headline show at Bellahouston Park in Glasgow. The show will take place on Saturday 27th August with special guests
Fall Out Boy
and more names set to be announced as part of Glasgow Summer Sessions.
Tour Dates:
03 JUN - ROCK AM RING 2016 - NÜRBURGRING, GERMANY
03 JUN - ROCK IM PARK 2016 - NÜRNBERG, GERMANY
04 JUN - ROCK IN VIENNA - VIENNA, AUSTRIA
11 JUN - DOWNLOAD FESTIVAL PARIS - PARIS, FRANCE
15 JUN - BERGENFEST - BERGEN, NORWAY
16 JUN - MAD COOL FESTIVAL - MADRID, SPAIN
25 JUN - BELSONIC - BELFAST, NORTHERN IRELAND
30 JUN - BRAVALLA - NORRKÖPING, SWEDEN
02 JUL - PROVINSSIROCK - TORNAVANSAARI, FINLAND
07 JUL - NOS ALIVE - LISBON, PORTUGAL
10 JUL - I-DAYS FESTIVAL 2016 - MONZA, ITALY
15 JUL - FIB BENICÀSSIM - BENICÀSSIM, SPAIN
22 JUL - FUJI ROCK - NIIGATA PREFECTURE, JAPAN
24 JUL - VALLEY ROCK FESTIVAL - JISAN, SOUTH KOREA
14 AUG - SPELLGROUND FESTIVAL - CONSTANTA, ROMANIA
18 AUG - OPEN AIR GAMPEL - GAMPEL-BRATSCH, SWITZERLAND
19 AUG - LOWLANDS 16 - BIDDINGHUIZEN, NETHERLANDS
20 AUG - PUKKELPOP FESTIVAL 2016 - HASSELT, BELGIUM
26 AUG - LEEDS FESTIVAL 2016 - WETHERBY, UNITED KINGDOM
27 AUG - BELLAHOUSTON PARK - GLASGOW, UNITED KINGDOM
28 AUG - READING FESTIVAL 2016 - READING, UNITED KINGDOM
19 OCT - ZIELBAU ARENA - WINTERTHUR, SWITZERLAND
20 OCT - OBIHALL - FIRENZE, ITALY
21 OCT - GASOMETER - VIENNA, AUSTRIA
23 OCT - ZENITH - MUNICH, GERMANY
24 OCT - MAX-SCHMELING-HALLE - BERLIN, GERMANY
25 OCT - TORWAR - WARSAW, POLAND
27 OCT - SAKU SUURHALL - TALLINN, ESTONIA
28 OCT - BLACK BOX - HELSINKI, FINLAND
30 OCT - MÜNCHENBRYGGERIET - STOCKHOLM, SWEDEN
31 OCT - SENTRUM SCENE - OSLO, NORWAY
01 NOV - STAVANGER KONSERTHUS - STAVANGER, NORWAY
03 NOV - VEGA, COPENHAGEN, DENMARK - COPENHAGEN, DENMARK
04 NOV - SPORTHALLE - HAMBURG, GERMANY
05 NOV - ROCKHAL - LUXEMBOURG, LUXEMBOURG
07 NOV - TIVOLI, UTRECHT, HOLLAND - UTRECHT, HOLLAND
08 NOV - FESTHALLE - MESSE - FRANKFURT, GERMANY
09 NOV - 013 TILBURG, NETHERLANDS - TILBURG, NETHERLANDS
11 NOV - LANXESS ARENA - COLOGNE, GERMANY
26 NOV - 3ARENA - DUBLIN, IRELAND
27 NOV - SSE ARENA - BELFAST, UNITED KINGDOM
29 NOV - THE SSE HYDRO - GLASGOW, UNITED KINGDOM
30 NOV - GE OIL AND GAS ARENA - ABERDEEN, UNITED KINGDOM
02 DEC - METRO RADIO ARENA - NEWCASTLE UPON TYNE, UNITED KINGDOM
03 DEC - MANCHESTER ARENA - MANCHESTER, UNITED KINGDOM
04 DEC - FIRST DIRECT ARENA - LEEDS, UNITED KINGDOM
06 DEC - MOTORPOINT ARENA - CARDIFF, UNITED KINGDOM
07 DEC - BCA - BIRMINGHAM, UNITED KINGDOM
08 DEC - THE O2 - LONDON, ENGLAND
Tickets on sale:
www.biffyclyro.com/shows.htm