(2016-5-25) Finally! Fall 108 Dates Are Here!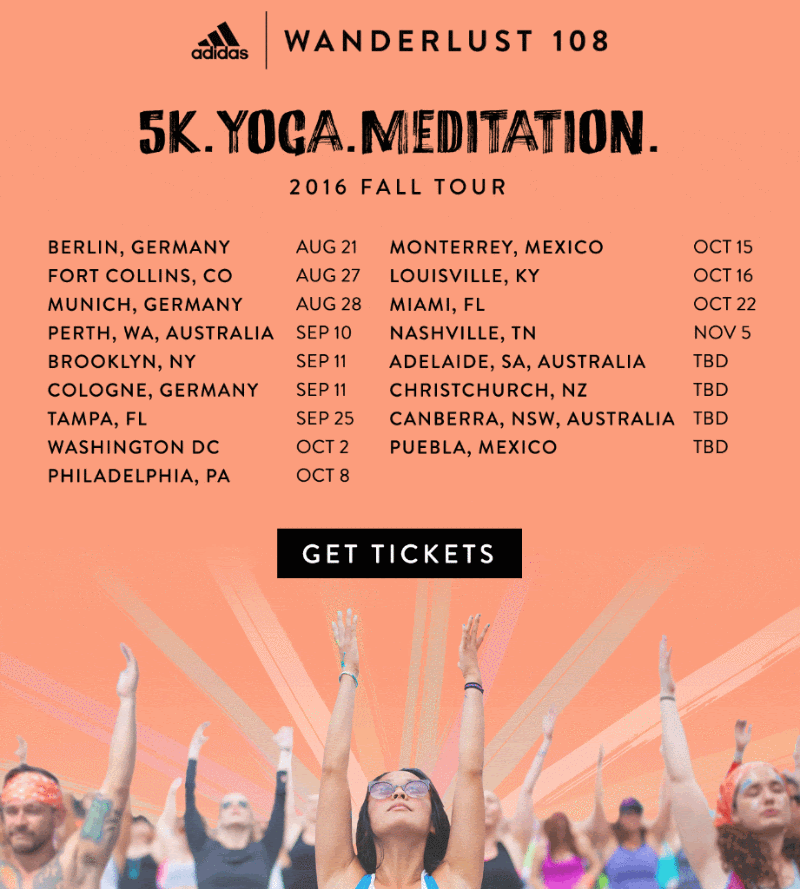 (2016-2-5) THIS SUMMER'S FESTIVAL LINEUP:
Wanderlust
are Turning the Volume Up: Alison West, Ashley Turner, Beats Antique, DakhaBrakha, Dylan Werner, Eoin Finn, Faith Hunter, Gurmukh Kaur Khalsa, Joel Salatin, Jonny Kest, Karsh Kale, Kathryn Budig, Kerri Kelly, Maty Eztraty, MC YOGI, Michael Franti, Nahko and Medicine for the People, Noah Mazé, Prince EA, Rod Stryker, Rodney Yee and Colleen Saidman, Ryan Leier, Seane Corn, Shiva Rea, Sri Dharma Mittra, Steel Pulse, Stephanie Snyder, Xavier Rudd & the United Nations, Annie Carpenter, Brian Miller, Carmen Curtis, Carolyn Anne Budgell, Chelsey Korus, Claudine & Honza Lafond, Daft Phunk, Derek Cook, Desiree Rumbaugh, Deven Sisler, DJ Drez, Doug Swenson, Duncan Peak, Francesca Blanchard, Geneviève Guérard, Gina Caputo, Gina Murdock, Janick Leonard, Jeffrey Hollender, Joan Hyman, Joseph Barnett, Kia Miller, Lauren Singer, Liza Dousson, Magi Pierce, Magic Giant, Mary Beth LaRue, Matt Giordano, Melanie Richards, Mimi Rieger, Morley, Nico Luce, Nikki Costello, Nikki Vilella, Noah Levine, Rafe Pearlman, Rameen Peyrow, Rima Rabbath, Schuyler Grant, Shabad Khalsa, Shakti Sunfire, Sheela Bringi, Sianna Sherman, Son Little, Tasha Blank, The Mast, Thievery Corporation, Thomas Droge, Tiffany Cruikshank, Vinnie Marino, Whitney Allen, YogaSlackers...
(2016-1-12) Announcing
Wanderlust
108 World Tour Stops, Tickets Now On Sale for Spring Events.
(2015-12-8)
Wanderlust
HQ is hard at work planning 2016 events. Four epic days at
Wanderlust O'ahu
? Yes, please. Only a few 1-day tickets remain at the current price. Even better, soak in every moment of the festival with a 3 or 4-day pass.
GREAT LAKE TAUPO Lineup:
Thievery Corporation, Xavier Rudd & the United Nations, Shiva Rea, Duncan Peak, Maty Ezraty, DJ Taz Rashid, Claudine Lafond, Honza Lafond, Tahuna Breaks, Simon Park, Jason Shon Bennett, Sweet Mix Kids, YogaSlackers, Kemi Nekvapil, Nikki Ralston, Les Leventhal, Pete Longworth, Matiu Te Huki, Elana Meta, Jase Te Patu, Aroha, Vincent Bolletta, Arli Liberman, Micheal K. Chin, Tali, R.I.A., Francis (Franko) Heke, Emma Mildon, Chiccoreli, Kara-Leah Grant, Taane Mete, Andie Spargo, Tim Seutter, Chante Neblett, Abria Joseph, Hera, Pascal Ackermann
THREDBO Lineup:
Xavier Rudd & the United Nations, Elena Brower, Ana Forrest, Duncan Peak, Dustin Thomas, Claudine Lafond, Honza Lafond, DJ Taz Rashid, Jonni Pollard, Wild Marmalade, Mia Paris, YogaSlackers, The Twoks, Swami Govindananda, Jamie Gonzalez, Chris Deckker, Briohny Smythe, Dice Iida-Klein, Les Leventhal, Tahl Rinsky, Pete Longworth, Elana Meta, Cassie Lee, Bonnie Argo, Gabor Bukovinszky, Arli Liberman, Noelle Connolly, Alexa Nehter, Rusty Davis, Caitlyn Woods, Andie Spargo, Micheal K. Chin, Sweet Mix Kids, R.I.A., Abria Joseph, Hera, Pascal Ackermann
OAHU Lineup:
Ana Forrest, MC YOGI, Maty Ezraty, Vinnie Marino, Trevor Hall, Chad Dennis, Citizen Cope, DJ Drez, Joan Hyman, Stephanie Snyder, Gloria Latham, Sol Rising, Swami Govindananda, Eoin Finn, Jason Nemer, Jinju Dasalla, Shakti Sunfire, YogaSlackers, Gillian Gibree, Sarah Tiefenthaler, Sara Phelan, Jennifer Reuter, Anthony Chavez, Benjamin Auerbach, Christine West, Elijah Ray, Emory Hall, Hans Hedemann Surf School, Hele Huli Bike & Fishing Tour, Ian Masterson, Iemanjo, Jake Laub, Jason Lee Worton, Jaya Lakshmi and Ananda, Jeramie Vaine, Jessica Abner, Kadri Kurgun, Kahokule'a Haiku, Karina Moore, Lysha Wernig, Melody Jay, Michelle Gierst, Ron Artis II and Thunderstorm, Shaka Kayak Tour, Sky Kubby / The Raw Chocolate Diet, Sultan32, Susan Casey, Taylee Wilson, Tiare Thomas, Turtle Bay Resort Horseback Program
Feb. 4-7, 2016 -
GREAT LAKE TAUPO, WANDERLUST FESTIVAL
- WAIRAKEI, GREAT LAKE TAUPO, NZ, Tickets on sale:
www.eventbrite.com/e/wanderlust-great-lake-taupo-2016-tickets-18560462844
Feb. 18-21, 2016 -
THREDBO, WANDERLUST FESTIVAL
- THREDBO ALPINE VILLAGE, NSW, AU, Tickets on sale:
www.eventbrite.com/e/wanderlust-thredbo-2016-tickets-18579025365
Feb. 25-28, 2016 -
OAHU, WANDERLUST FESTIVAL
- TURTLE BAY RESORT, HI, Tickets on sale:
www.eventbrite.com/e/wanderlust-oahu-2016-tickets-15787489807