(2016-6-28)
Maceo Plex
and
TTP Reunion
at the
EXIT
Dance Arena!
(2016-6-4)
EXIT Festival
's Fusion Stage will be the meeting ground for regional and performers from across the planet.
Cock Sparrer (UK), The Black Heart Rebellion (Bel), My Baby (NL), Dub Pistols (UK), Kensington (NL), Nova Heart (CN), Tuber (GR), as well as local heroes, Josipa Lisac, Urban&4, Stray Dogg, Who See and many more are just some of the names which will introduce the colorful musical world of Exit's Fusion Stage.
(2016-5-20)
George Clinton
will perform on Friday, 8 July on
Exit Festival
's Main Stage, accompanied by his world famous band
Parliament-Funkadelic
!
(2016-5-7)
David Guetta
will perform on Friday, 8 July at
EXIT Festival
!
(2016-5-4)
Richie Hawtin
, one of the greatest artists of all time will perform at mts Dance Arena at
Exit Festival
on Sunday, 10 July! The Fortress will feature some of the best DJ sets by world leaders of the electronic scene:
Dave Clarke, Dimitri Vegas&Like Mike, Disciples, Feder, Hernan Cattaneo b2b Henry Saiz, Hot Since 82, Jackmaster, James Zabiela, MANT, Marco Carola, Mind Against, Nicky Romero, Nina Kraviz, Richie Hawtin, Robin Shulz, Sam Feldt
and
Solomun
.
(2016-4-13)
The Prodigy
will perform at their favorite
EXIT Festival
on Sunday, 10 July!
(2016-3-26)
Skrillex
will play at beautiful Jaz beach named Europe's best beach by Lonely Planet, for a spectacular opening of
Sea Dance Festival
on 14 July!
(2016-3-20)
The Vaccines
and
Tinariwen
added to
Exit Festival
's diverse line up!
(2016-2-22)
HURTS
will continue their
EXIT Adventure
at
Sea Dance Festival
! New X-Bass additions:
Sigma
,
Sub Focus
and many more...
(2016-2-12) There are more and more acts being confirmed each week!
(2016-1-19)
Ellie Goulding
to headline
Exit Festival
2016!
(2015-12-24)
Exit festival
(7-10th July 2016), combined with its seaside sister
Sea Dance festival
(14-16th July 2016), makes for a festival package dubbed the Exit Adventure, created to be the biggest and longest-lasting festival holiday in whole world that spans over 10 days! This unique package combines two award-winning festivals at two spectacular locations in two neighbouring countries, which proved to be a success formula that attracted 300.000 people from 60+ countries who have traveled from magical Petrovaradin fortress in Serbia to stunning Jaz Beach in Montenegro.
(2015-12-18) First is the highly acclaimed
Exit Festival
, set at the magical Petrovaradin Fortress in
Novi Sad
(Serbia), lasting four days and nights throughout more than 20 stages with some of the world's top performers.
Lineup:
SKRILLEX, THE PRODIGY, BASTILLE, DAVID GUETTA, ELLIE GOULDING, GEORGE CLINTON, HURTS, THE VACCINES, WIZ KHALIFA, DIMITRI VEGAS & LIKE MIKE, GRAMATIK, JEFF MILLS, LOST FREQUENCIES, MACEO PLEX, NICKY ROMERO, RICHIE HAWTIN, ROBIN SCHULZ, SISTER BLISS - FAITHLESS DJ SET, STEREO MCS, STORMZY, TINARIWEN, BLACK COFFEE, DAVE CLARKE, HOT SINCE 82, JACKMASTER, MARCO CAROLA, NINA KRAVIZ, SOLOMUN, ANDY C, BANCO DE GAIA, GOLDIE, SHY FX FEAT. STAMINA MC, SIGMA DJ SET, SUB FOCUS & MC ID, TEENAGE TECHNO PUNKS, WILKINSON DJ SET FEAT. MC AD-APT, ZOMBOY, ANTI-FLAG, ANTIGONE, AT THE GATES, BAD COPY, BOŽO VREĆO & HALKA, CARTOON, COCK SPARRER, DASHA RUSH, DISCIPLES, DISCIPLIN A KITSCHME, DUB PISTOLS, EDO MAAJKA, FILATOV & KARAS, FRANÇOIS X, HERNAN CATTANEO B2B HENRY SAIZ, JAMES ZABIELA, JOSIPA LISAC, KENSINGTON, KULTUR SHOCK, MIND AGAINST, MODESTEP DJ SET, MORITZ VON OSWALD, MY BABY, PARADISE LOST, RAISED FIST, REBOLLEDO, SHLØMO, THE HACKER, TOMMY FOUR SEVEN, URBAN & 4, ALEKSANDAR GRUM, AMON DIN, AP, ATHEIST RAP, AUDIOSTORM, BALKANIKA, BASSIVITY, BILLY ANDOL, BOMBARDER, BORGHESIA, BORIS VIANDE, BORN FROM PAIN, BUSLAV, CALAVERA & MANYA, CAMERON JACK, CONGO NATTY, CONSECRATION, COUNTER IGNITION, DEAD JOCKER, DEATHRONATION, DJ CULE, DJ FRA, DJ HYPE, DJ IRON B2B JSTAR, DJ ONE, DJ PROZOR, DJ RUDIE, DJ TITO, DJ/MC KILLO KILLO, DOWNSTROY, DUB DUBA, ESTWIND, FAST AS WE GO FAR, FEDER, FEW REASONS WHY, FILIP XAVI, FIRST FLAME, FLAT BIT, FLATLINE, FOKUS, GILLERZ, GLOBAL DIGGERS, GLOVES OFF, GOVERNMENT 4000, GRAHAM CANDY, GRUBB, GUASPACHOS SOUND, HARIS, HARIS PILTON, HUND, IMPLANT PENTRU REFUZ, INSOLATE, IRIE FM, ISKAZ, IVY LAB, JAN DE R, JASNA JOVIČEVIĆ I GABRIELA KOSO, JEREMY, KATJA KUBIKOVA, KILLO KILLO BANDA, KLAUS, KOLAPS, KRISTIJAN MOLNAR, LAG, LAKMUS RED, LAST THRILL, LEA DOBRIČIĆ, LOLLOBRIGIDA, MANT, MAREK TRIPKOWSKY, MILLOK, MISS SUNSHINE A.K.A. INSOLATE, MITESERS, MLADEN TOMIĆ, MR. JOOLS, MS DYNAMITE, MY NU LENG & DREAD MC, NEGURA BUNGET, NEKTARIJA, NORHOD, NOVA HEART, P. S., PSYK, PUNKREAS, RASHOMON & BUMBASS SELEKTAZ, REGEN, RENE LAVICE, REPETITOR, RHUDAMAN, RITAM NEREDA, S.A.R.S., S.K.A., SAM FELDT, SARAH FARINA, SEAR BLISS, SHI & KUF, SILENTE, SOFT 85, STIM, STRAY DOGG, SUB ZERO, SVARTGREN, TEDDY KILLERZ, THE BLACK HEART REBELLION, THE RUMJACKS, THE SOCKS, THIMBLE, TI, TIBIA, TIJANA T, TKNO, TOXIC HOLOCAUST, TUBER, VEGIM & FLEKITZA, VIOLENT CHAPTER, VOX POPULI, WAR ENGINE, WEREFOX, WHO SEE, XAON, ZAA, ZADIG + MNOGI DRUGI USKORO!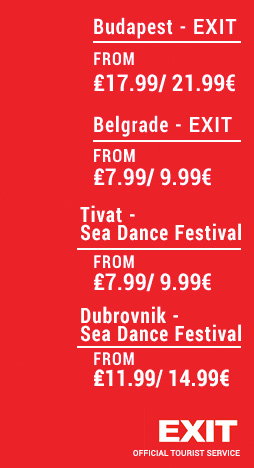 Tickets on sale:
www.exitfest.org/en/tickets