HARD Summer 2012 Lineup Announced & Tickets Info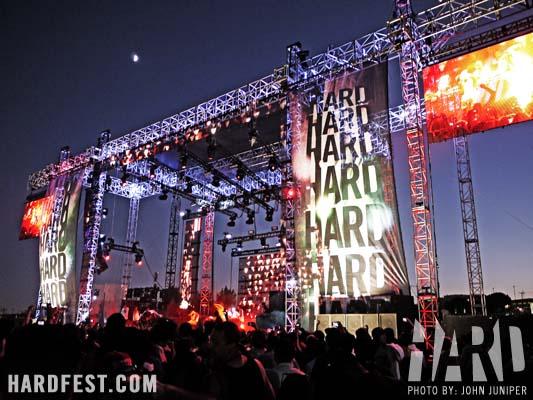 HARD Summer
(August 3rd & 4th 2012, Los Angeles, CA) is approaching faster than ever! Your two-day pass now includes free fare on any of the Metro Red and Gold Lines. Many of the parking options at Metro stations are free. The discounted quantities of two-day passes for $109 will be gone before the line-up is announced in the coming days.
HARD Summer 2012 lineup:
2 LIVE CREW, 12TH PLANET, 2MANYDJS, A-TRAK, AC SLATER, AMANDA BLANK, ANNIE MAC, BASEMENT JAXX, BEATAUCUE, BLONDES, BORGORE, BOY 8-BIT, BOYS NOIZE, BREAKBOT, BRODINSKI, BURAKA SOM SISTEMA, BUSY P, CARTE BLANCHE, CASPA, CHROMEO, CLASSIXX, CLOCKWORK, CLUB CHEVAL, CONGOROCK, CROOKERS, CRYSTAL CASTLES, D.I.M., DANGER, DANNY BROWN, DEADMAU5, DESTRUCTO, DIE ANTWOORD, DIGITALISM, DILLON FRANCIS, DIPLO, DJ AM, DJ CRAZE, DJ FALCON, DJ MEHDI, DJ SKEET SKEET, DON RIMINI, DOORLY, DUCK SAUCE, EGYPTRIXX, EMALKAY, EROL ALKAN, FAKE BLOOD, FATBOY SLIM, FLYING LOTUS, GASLAMP KILLER, GESAFFELSTEIN, GINA TURNER, GOOSE, GREEN VELVET, HARVARD BASS, HOLY GHOST!, HOUSEMEISTER, JACK BEATS, JACKMASTER, JAMES MURPHY & PAT MAHONEY, JAN DRIVER, JASON BENTLEY, JOKER, JOKERS OF THE SCENE, JOY ORBISON, JUAN MACLEAN, JUSTICE, JUSTIN MARTIN, KARLSSON & WINNBERG, KID SISTER, KILL THE NOISE, KINGDOM, L-VIS 1990, LA RIOTS, LAIDBACK LUKE, LIL JON, LITTLE DRAGON, LMFAO, M.I.A., MAJOR LAZER, MIIKE SNOW, MIXHELL, MODESELEKTOR, MR. OIZO, MSTRKRFT, MUMBAI SCIENCE, N.O.R.E., N.E.R.D., NADASTROM, NERO, NOISIA, NGUZUNGUZU, NICK CATCHDUBS, NINJASONIK, ODD FUTURE, OLIVER, PAUL CHAMBERS, PEACHES, PEARSON SOUND, PERRY FARRELL, PROXY, RATATAT, RUSKO, RYE RYE, SANTIGOLD, SBTRKT, SEBASTIAN, SHIT ROBOT, SIDNEY SAMSON, SIMIAN MOBILE DISCO, SINDEN, SIRIUSMO, SHADOW DANCER, SHINICHI OSAWA, SKRILLEX, SLEIGH BELLS, SO ME, SOULWAX, SPANK ROCK, STEVE AOKI, STILL GOING, STRIP STEVE, SWITCH, THE BLOODY BEETROOTS, THE MAGICIAN, THE TWELVES, THEOPHILUS LONDON, TIGA, TOMMY LEE & DJ AERO, T.E.E.D, TRENTEMOLLER, UNDERWORLD, WHITEY, YELAWOLF, ZOMBIE NATION.
HARD Summer tickets on sale now