"Bayou 'n' Boogie 2011 Lineup Announced & Tickets Info | GoRockfest.Com - The Latest Rockfest, Artist's Live News"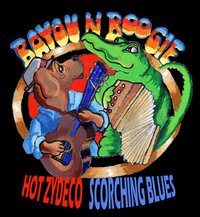 Bayou 'n' Boogie Festi
Coming Right Up! Memorial Day Weekend, May 27, 28 & 29, Francis Farm, Rehoboth, MA.
The
Bayou 'n' Boogie Festival
takes place on the Francis Farm in Rehoboth, MA—rain or shine—with two huge covered pavilions with large wooden dance floors and indoor & outdoor stages for continuous music. This is a rare opportunity interact with some of the masters in a small, intimate setting. Featured workshops this year will be fiddle, accordion, guitar. plus beginning & advanced Cajun/Zydeco and Western Swing.
Bayou 'n' Boogie 2011 Lineup:
Red Hot Cajun & Zydeco and Scorchin' Blues!!!, Sonny Landreth & the Goners, Curley Taylor & Zydeco Trouble, Bonerama, Rosie Ledet — The Zydeco Sweetheart, Johnny Nicholas & Hellbent, Dennis Stroughmatt & Creole Stomp, Big Sandy & the Flyrite Boys, Corey Ledet & His Zydeco Band, Paul Cebar & Tomorrow's Sounds, The Lustre Kings, Superchief Trio, Jesse Lege' & Bayou Brew, The Gas House Gorillas, The Cajun Hobos, Tim Taylor's Blues Band, Preston Frank & Big Daddy Zydeco & more!
Saturday OR Sunday $35 Per Person, 2 Days $65 Per Person, The Whole Enchilada-- all three days-- only $90! Bayou 'n' Boogie Tickets On Sale Now