"Rogers Bayfest 2011 Announces Star-Studded Country Line-up | GoRockfest.Com - The Latest Rockfest, Artist's Live News"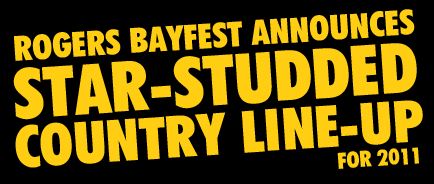 Christmas has come early with the release of the
Rogers Bayfest
country line-up! The 13th annual festival brings together classic country twang with some of country's hottest new artists.
July 15, 2011
Unlicensed General Admission - $32.99
Unlicensed VIP - $85.99
Licensed General Admission - $36.99
Licensed VIP - $115.99
ATTENTION: General Admission ticket prices updated.
TRACE ADKINS
and
MONTGOMERY GENTRY
will kick the country weekend into high gear as co-headliners on Friday night! These two veteran artists have been international superstars throughout the past decade and continue to deliver powerful performances that entertain and deliver every night!
TRACE ADKINS
has one of the most identifiable voices in country music, the Grammy-nominated artist has had twenty-seven singles land on Billboard's country chart, with 15 breaking into the Top 10. His albums achieve gold or multi-platinum status and three have made chart-topping debuts.
MONTGOMERY GENTRY
now in their 11th year on the national stage, Eddie Montgomery and Troy Gentry can look back on one of country's most impressive legacies as duo, Montgomery Gentry. They have released more than 20 charted singles, with anthems like "My Town" and "Hell Yeah" becoming indelible parts of the honky-tonk landscape.
July 15, 2011 with special guests Rodney Atkins
Unlicensed General Admission - $32.99
Unlicensed VIP - $85.99
Licensed General Admission - $36.99
Licensed VIP - $115.99
LADY ANTEBELLUM
is one of the best new groups in country music today. There's been no lull in the roll Lady Antebellum is on. They've had back-to-back chart-topping singles, proceeding directly from the previous effort's "I Run to You" hitting the top spot in July to their "Need You Now" single enjoying a multi-week run at No. 1 just prior to the new album's release. Even without any pop radio play, "Need You Now" cracked the top 10 of Billboard's all-genre Hot 100, and the tune went to No. 1 on the iTunes all-genre singles chart. The Lady A tour is billed as one of the hottest tours of 2011, and is one of the most requested artists by Rogers Bayfest fans!
RODNEY ATKINS
will be direct support for Lady A. There's a very good reason that no less than four songs from Rodney Atkins' platinum-selling 2006 album If You're Going Through Hell became No. 1 hits—a feat that no one had accomplished since 2002. It's the same reason that two of those songs became the most-played of 2006. Atkins is a great addition to Saturday's star-studded line-up.
Ticket Information: Order online at
sarniabayfest.com
or by phone at 519-337-4474.